The Ad Group represents the tactic to fulfill your advertising goals. Each campaign can have multiple ad group tactics, each unique targeting strategy, budget and flight dates.
Step 1 Create ad group
You can either click NEW Ad Group button near the lower left corner to start the ad group creations process, or duplicate an existing ad group to get started.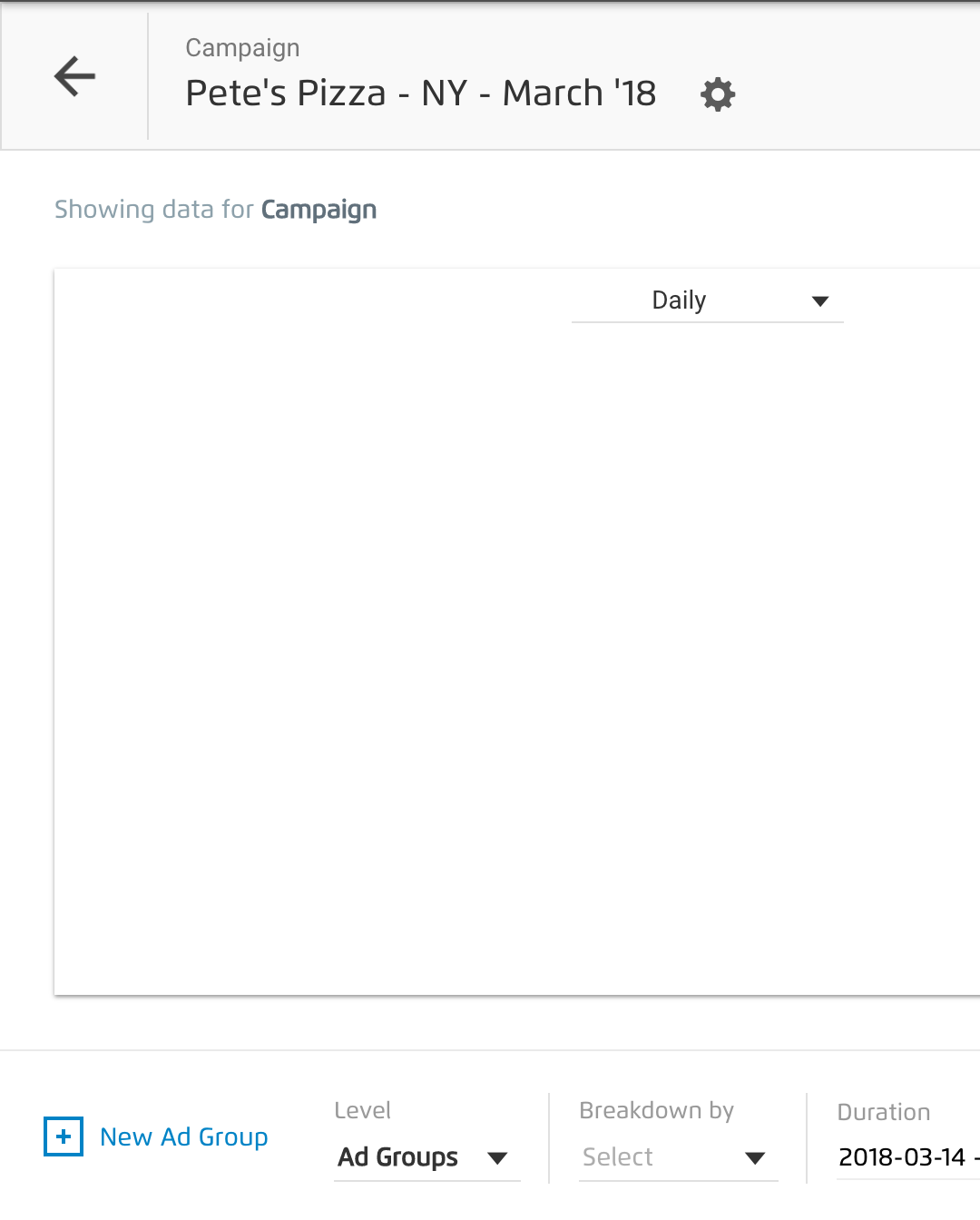 Step 2 Choose targeting goal
Once you see the new ad group screen, you'll need to choose a targeting option from the following:
Target by Location - real time location targeting
Target by Audience - target by device ids
Target by Weather - target based on current and future weather conditions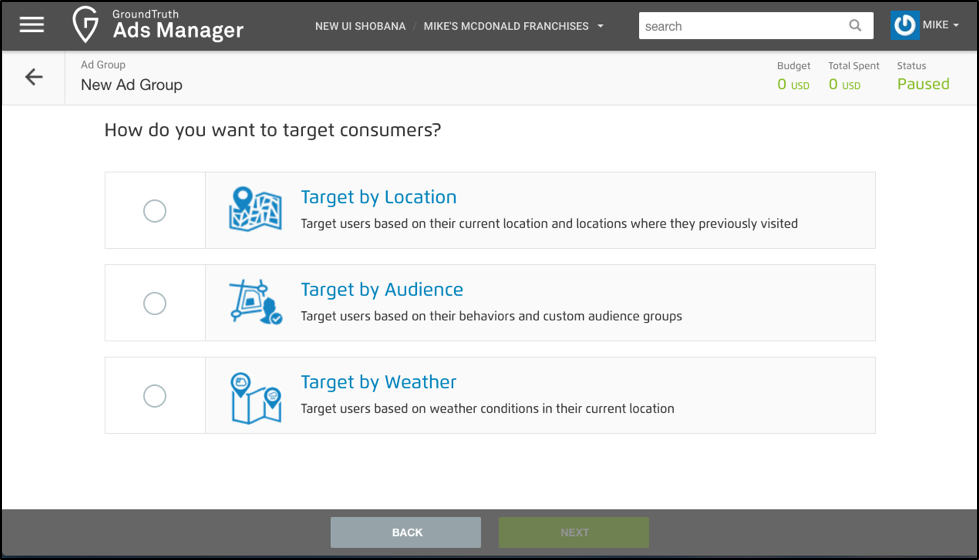 1. Target by Location
offers 3 powerful real-time targeting options for reaching users based on GroundTruth's location targeting capabilities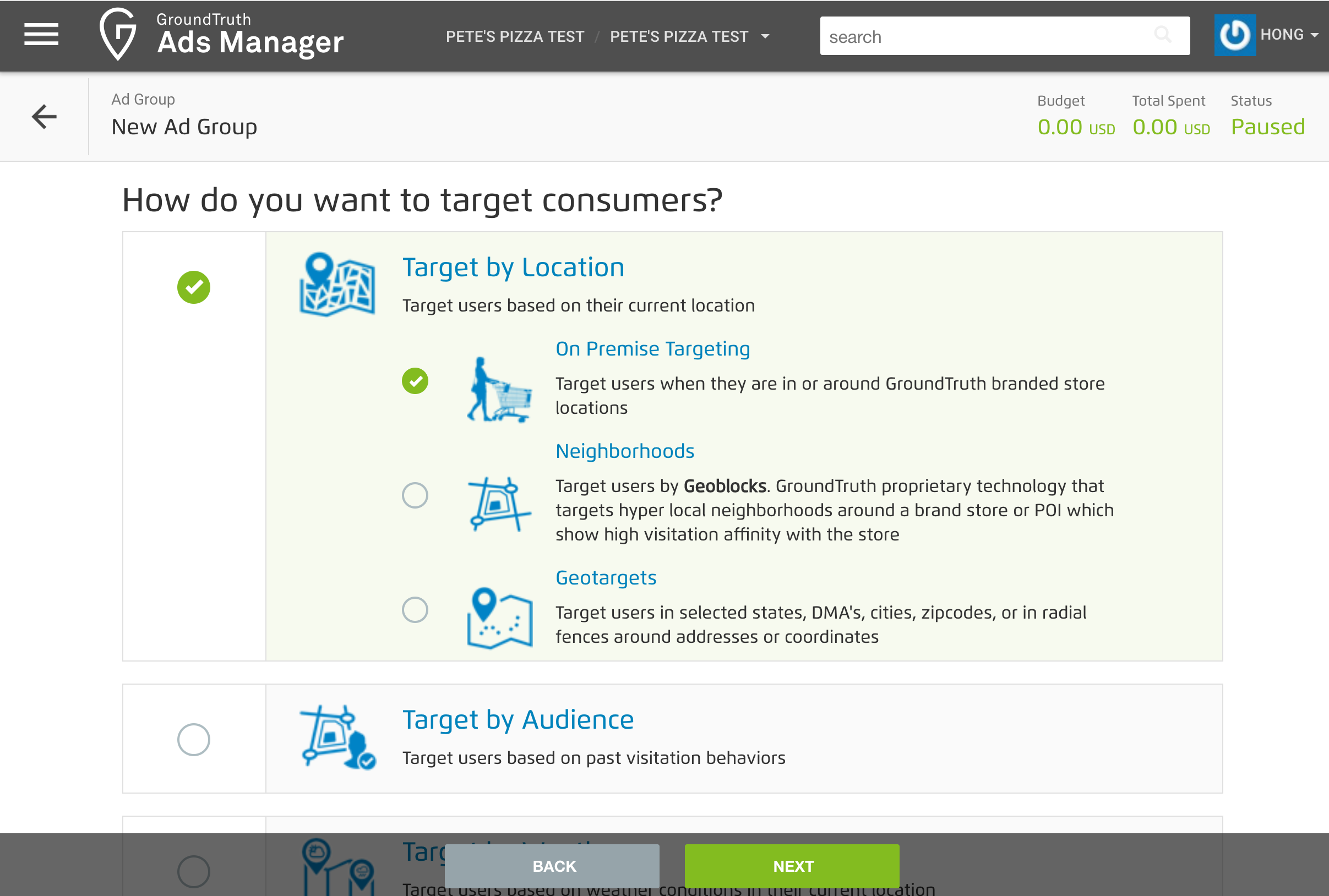 On Premise - allows marketers to target consumers in real-time using GroundTruth's accurate Blueprint(TM) polygons, which captures physical boundaries of retail locations. This allows for precise location targeting of visitors in-store, on-lot, or in a retail block.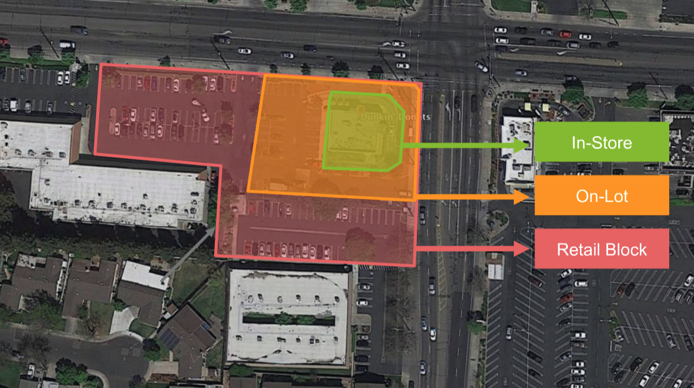 Neighborhoods - These are geographical areas dynamically built to reach areas where visitors of a particular store or location groups tend to live or work.



GroundTruth Neighborhoods are 100% automated based on visitation patterns and derived from GroundTruth's Blueprint technology.

Enables marketers to engage existing and new consumers.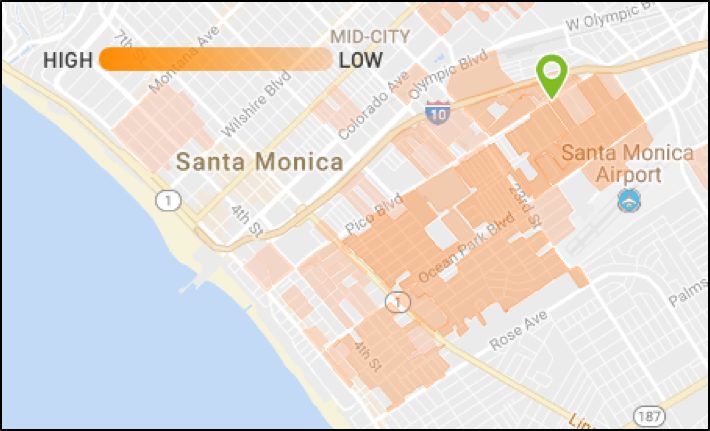 Geotargets

- Target users based on their real time geographic location, including:

Radial distance around an address(s), down to 0.1 miles.

Zipcode, City, State, and DMA targeting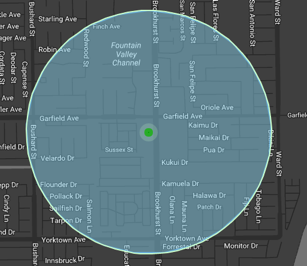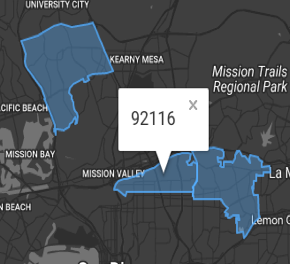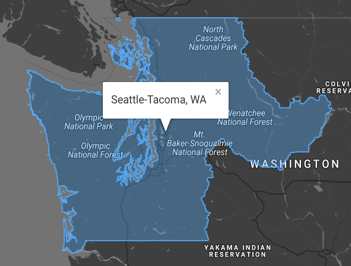 2. Target by Audience
Reach users that are associated with audience segment groups based on the real world visitation history, demographics or audiences from your ad group's "Build an audience" selection: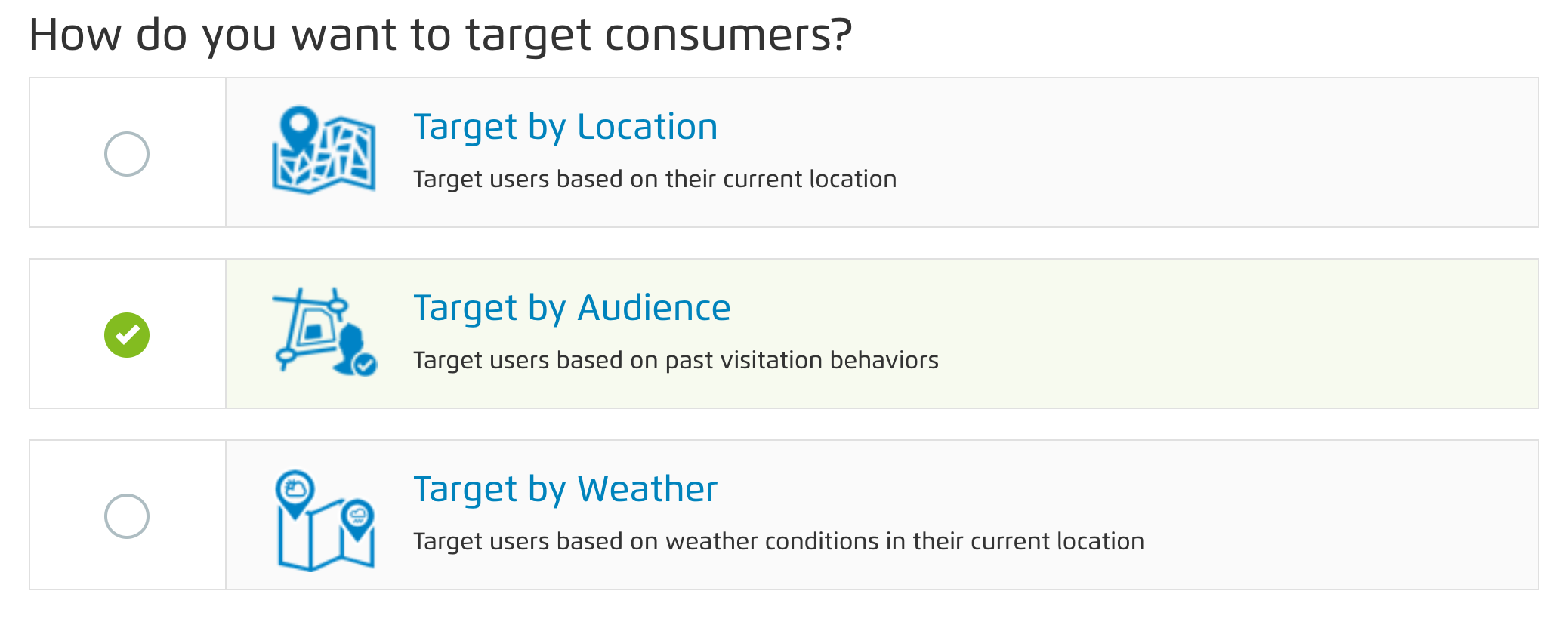 Location Audience: Powered by Blueprints, GroundTruth's Location Audience enables marketers to target consumers based on past visitation behavior to specific business locations or points of interest.


Behavioral Audience: Access GroundTruth's proprietary offline behavioral segments based on real-world visitation patterns.


Segments:

Enable marketers to remarket audience segments when "Build an audience" is selected
3. Weather Triggering
Reach customers based on actual weather conditions of future forecasted conditions.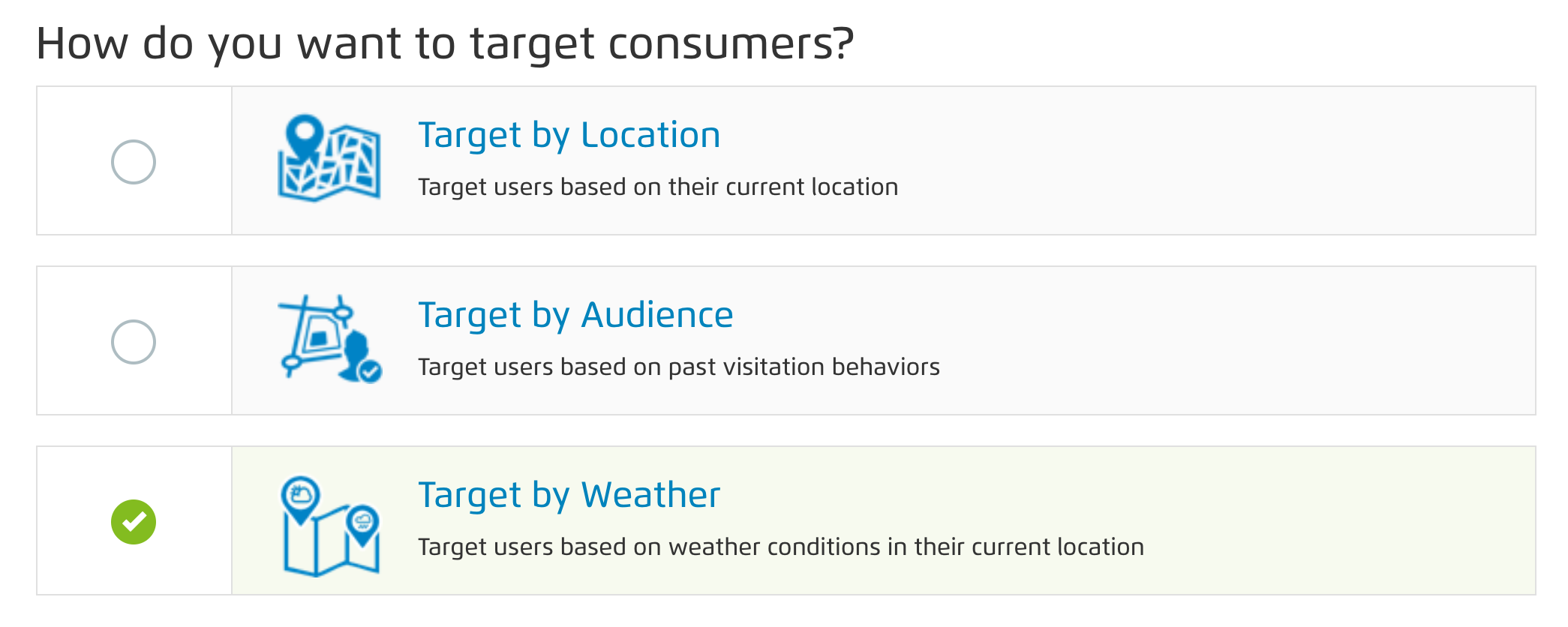 Message users based on forecasted or real time weather conditions in combination with location filtering.