We've built the only proprietary mapping technology designed specifically for location-based advertising & marketing called Blueprints. Blueprints are the foundation of all products and tactics developed here at GroundTruth.
What are Blueprints?
Blueprints are polygons created by tracing the store or place boundary based on satellite images to capture the precise boundaries of a location. Blueprints contain three distinct layers:
The first layer of a Blueprint contains a geo-fence titled in-store which maps to the walls of the business (colored in green).
The second layer is a geo-fence titled on-lot, which extends the in-store boundaries also to include the parking lot surrounding the business (colored in orange).
The third layer is a Blueprinted geo-fence that includes the retail block (colored in red).
| | |
| --- | --- |
| Click images to | view them in fullscreen. |
These polygon layers are proprietary to GroundTruth and unavailable through any other competitor.
Why Blueprints?
GroundTruth Blueprints™ ensures we only count a visit when one indeed occurs, unlike traditional radial geofences measuring up to 75% visitation inaccuracy. It allows us to build better-performing audiences and deliver insights and campaign results with more accurate store visitation data.
Additionally, it allows marketers to target consumers when they are within the nearby retail block of a targeted business, in the surrounding parking lot, or even when they're in-store. With this level of accuracy, marketers can capitalize on the many micro-moments that a consumer engages with their mobile device while generating a more personalized marketing message.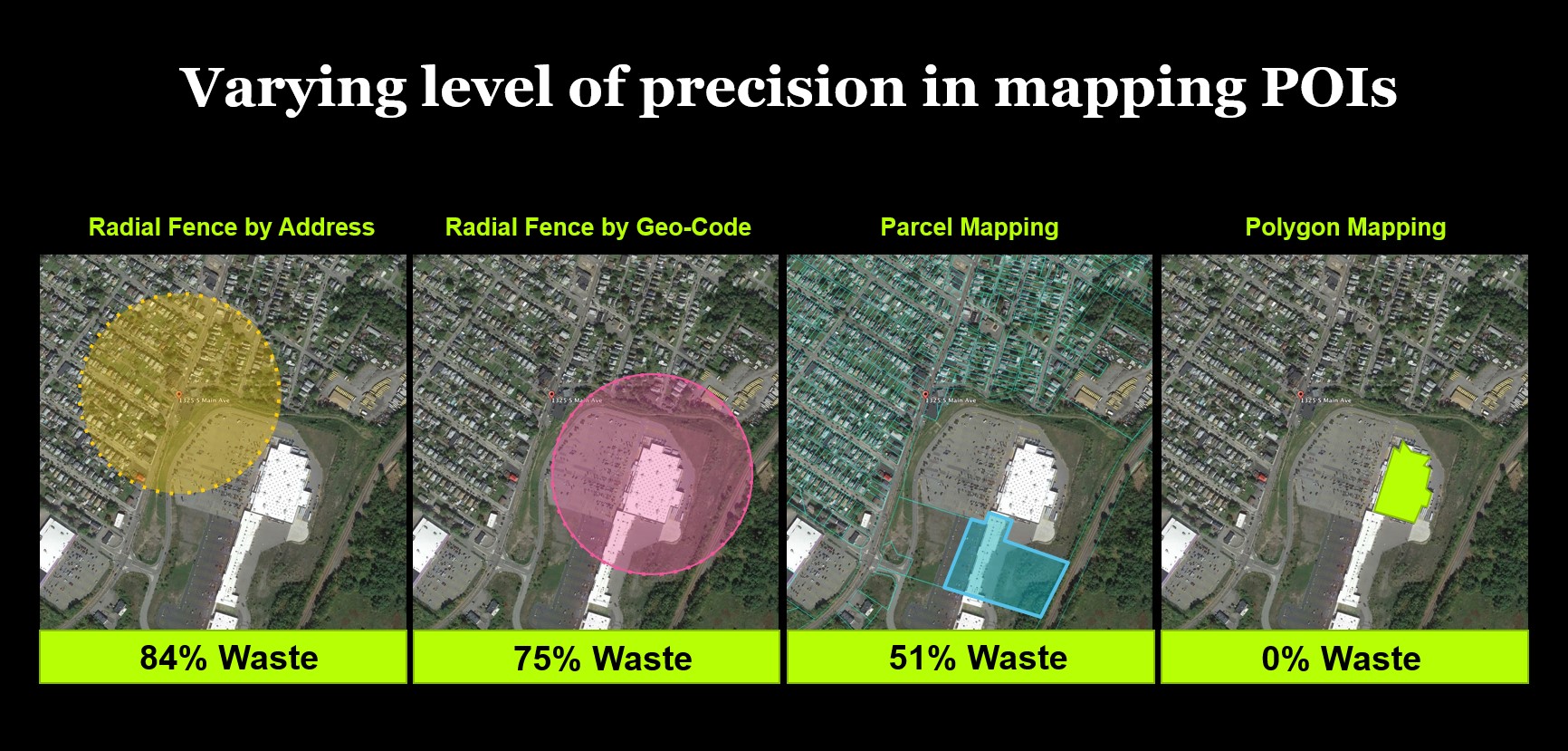 How are Blueprints used?
Targeting: Blueprints allow us to reach consumers while they are on the premise of a given location, whether a store or a stadium. This targeting granularity is extremely valuable for advertisers who want to reach consumers in a very precise location.

Audience Building: Blueprints or blueprinted locations allow us to build our location-based and behavioral audiences.

Attribution Visits are recorded when a user is exposed to your mobile ad and later shows up within your Blueprinted store location. This "raw" visitation metric is the actual observed measurement. Since the user has to both see your ad and be on a mobile device when they visit your "drive-to location", visits reported by GroundTruth are often lower than the actual visitors from ad spend.
Can users create their own Blueprints?
We maintain a database of 4.8M Blueprints and are continuously adding thousands of new Blueprints each month. To sustain the high quality of our Blueprints, we currently do not allow users to create their own Blueprints. However, you can put in a request to have new locations Blueprinted if they're not already in our system. Just reach out to selfservehelp@groundtruth.com for more information.