Ads Manager Text Banner Builder is a tool that allows users to effortlessly build scrollable attention-grabbing 320x50 text banner ads.

Access the Text Banner Builder in the Ad Creative section of Ads Manager by clicking New Creative and selecting the 'Text Banner' tab.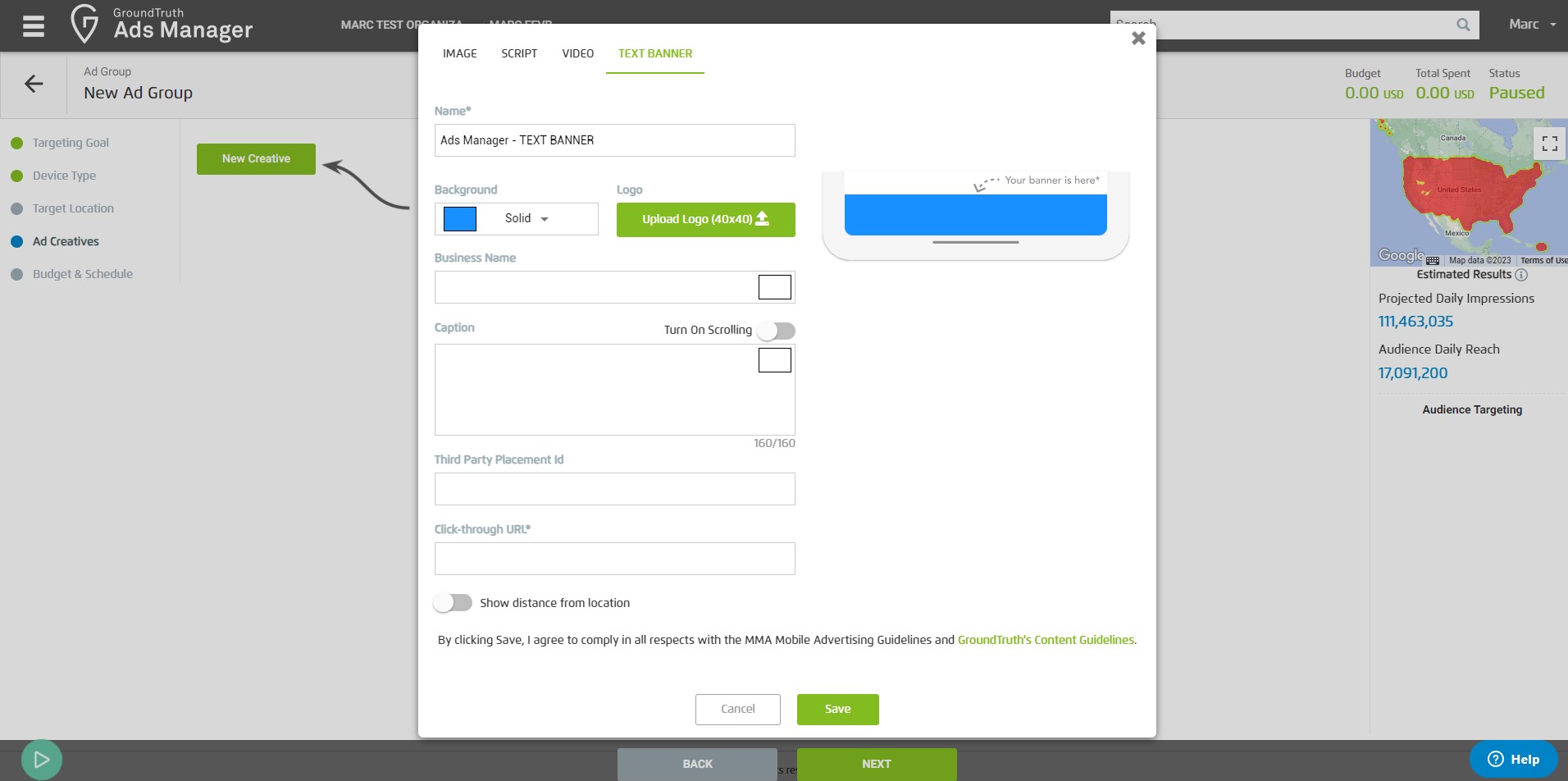 Key Features
Scrollable Text: Break free from the limitations of traditional static banners. and create scrollable text banner ads that entice users to interact with your content.
Dynamic Distance Overlays: Seamlessly connect your audience to the nearest store location, leveraging their position to create personalized and relevant ad experiences. Drive foot traffic and foster meaningful connections with potential customers.
User-Friendly Interface: Our intuitive and user-friendly interface makes ad creation a breeze, regardless of your level of expertise. Craft professional-looking banner ads with just a few clicks, saving time and effort while achieving outstanding results.
Benefits
Fast and efficient activation
Dynamic and engaging ads
Increased Click-Through Rates
Cost-Effective Solution
Creative Specifications

Banner Size: 320 x 50 only.
Business Name: Enter your business name.
Caption: 160 characters max. This text can be scrollable.
Background: Solid color or a 320x50 image.
Logo: 40 x 40 image or logo.
Click-Through URL: Location the user is redirected to when they click on your ad.
Show distance from location: Turn this option on if you are driving users to a specific location.
Frequently Asked Questions
1. Is scrollable text only applicable to 320x50 creative units, or can it be executed across other ad formats?
Our scrollable text banner units are only for 320x50 creative units.