Why duplicate an ad group?
You can clone or duplicate an existing ad group to preserve all creative, targeting, and settings so you won't have to start from scratch.
Use cases: Clone an audience to change tactics. Useful for running remarketing ad groups targeting previously saved custom audience segments.
Just make sure to modify the following settings after duplicating:
Name of your ad group
Targeting goals if you'd like to change
Build audience setting
Budget and flight dates
Save and launch to launch this new ad group
Steps to duplicate ad groups
1. To duplicate an ad group, select the ad group you'd like to duplicate, mouse over the ad group to bring up ad group menu, and click the Duplicate icon.

2. After duplicating your ad group, click the "eyeball" icon to make edits.
3. You will be taken to the "target location" page. If you need to change the tactic (for instance going from on-premise targeting to audience targeting), you can go back to the "target goal" page by selecting it from the menu on the left-hand side of the screen (see below).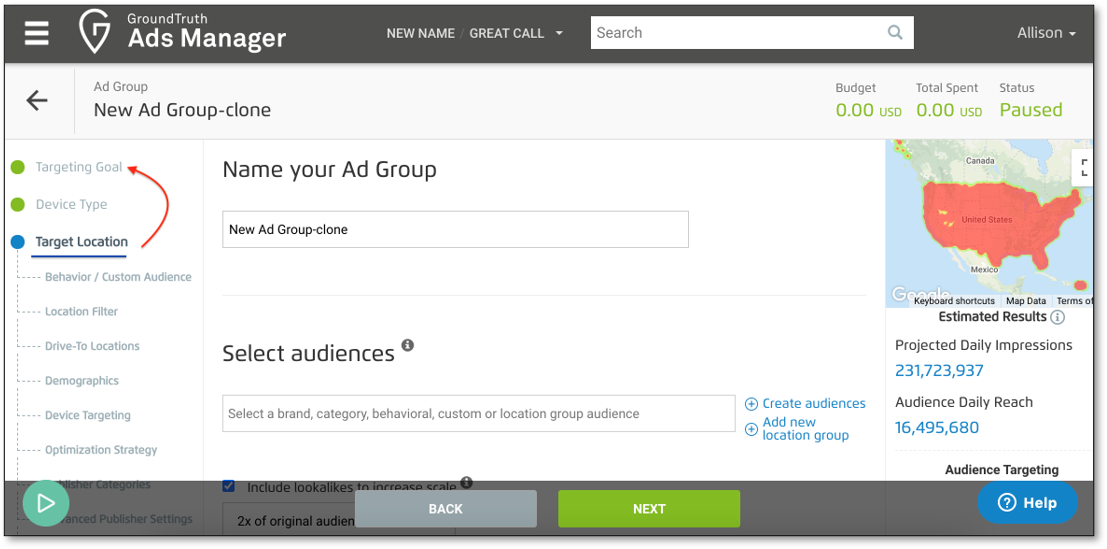 4. On the "target location" page, you can rename your cloned ad group, and move through the process of adjusting your target locations, creatives**, budget, and schedule the way you would when creating a new ad group.
** The benefit of using the duplicate feature is that it keeps the creatives from the original ad group, saving you work if you want to use the same creatives but in a different tactic or budget/timeline.