Weather Targeting / Triggering
Weather plays a key role in influencing consumer behavior. Powered by the largest network of weather sensors, weather triggering enables marketers to target against many weather conditions and quantifiable weather parameters including temp, wind, pressure, and alerts.
You can target based on current weather and forecasted conditions. Combined with location data, weather triggers allow marketers to provide the most contextual, relevant, and tailored message to customers and tap into consumers' moods, desires, and purchase intent at any given moment and location.
How it works
GroundTruth's owned and operated Weatherbug provides GroundTruth with feeds of our weather content on an ongoing basis. The data sets include:
Hourly Forecast

Daily Forecast

Observations

Alerts
Types of targeting parameters available
Weather Conditions:

Clear, Cloudy, Sunny, Hazy/Hot/Humid, Cold, Windy, Fog, Rain, Drizzle, Thunderstorms/Storms, All rain/Thunderstorms/Drizzle, Flurries, Snow, All Snowy & Winter Weather, Frozen Mix/Sleet

Humidity: This allows

you to select a 'greater than' or 'less than' threshold in percentage.

Temperature: This allows you to select a 'greater than', 'less than', or 'between' threshold in Fahrenheit. A 'Feels Like' option can be applied to the temperature parameters. It takes into account wind speeds and humidity to assess how the human body actually feels temperature.

Wind: This allows

you to select a 'greater than' or 'less than' threshold in regards to wind speed (mph).

Rain Probability: This allows

you to select a 'greater than' or 'less than' threshold in percentage.

Pressure: This allows

you to select a 'greater than' or 'less than' threshold in millibar (mbar).

Alert: This allows

you to select a severe weather phenomenon. For the full list of severe weather alerts, please see below. (e.g. ag group will only serve during a "Tropical Storm" or during "Excessive Heat".
Note
All weather targeting parameters excluding 'Pressure' are available in four timeframes:

Current Condition,

Today's Forecast,

Tomorrow's Forecast,

3 Day Forecast.

For best performance, we recommend using 'Weather Conditions' or 'Temperature' as weather triggers.
List of severe weather alerts available
| | | |
| --- | --- | --- |
| Air Stagnation | Freeze | Lake Effect Snow and Blowing Snow |
| Areal Flood | Freezing Fog | Lake Wind |
| Ashfall | Freezing Rain | Lakeshore Flood |
| Beach Hazard | Frost | Low Water |
| Blizzard | Hard Freeze | Rip Current |
| Blowing Dust | Heat | Severe Thunderstorm |
| Blowing Snow | Heavy Snow | Sleet |
| Brisk Wind | High Surf | Snow |
| Coastal Flood | High Wind | Snow and Blowing Snow |
| Dense Fog | Hurricane | Tornado |
| Dense Smoke | Hurricane Force Wind | Tropical Storm |
| Dust Storm | Hydrologic | Tsunami |
| Excessive Heat | Ice Accretion | Typhoon |
| Extreme Cold | Ice Storm | Wind |
| Extreme Wind | Inland Hurricane | Wind Chill |
| Fire Weather | Inland Tropical Storm | Winter Storm |
| Flash Flood | Lake Effect Snow | Winter Weather |
| Flood | | |
Best practices when setting up weather-targeted campaigns or ad groups
Here are a few tips when setting up a campaign or ad group that uses weather triggers:
Only select one weather trigger per ad group. Adding multiple weather triggers can greatly impact the delivery of your campaign.
An ideal campaign would be an 'always on' campaign (possibly with budget caps), over a long period of time (months).
Creative messaging should match the triggers used.
Use Case Examples
Weather Trigger

Cold Weather, Below Freezing, Snow

Marketing Opportunity

Target customers in moments when they are being influenced by the cold weather
Awareness and Drive In-store messaging

Vertical Opportunity

CPG: Brand awareness for hot food, ready-made meals, lip balm, dry-skin moisturizer
Retail: Drive to store for Cold weather/outdoor clothing, Resort wear
Travel: Warm destination, Ski-resorts
Auto: 4W Drive models, Snow Tires, Parts & Services Awareness
QSR: Hot meal/drink promo, comfort food restaurants
Weather Trigger

Tropical Storm, Hurricane, Blizzard

Marketing Opportunity

Customers will be in the mindset to prepare for the coming storm
Make sure your brand is top of mind when customers are actively looking to purchase emergency-prep items

Vertical Opportunity

Target customers with relevant ads during the moments leading up to the storm.
Drive instore to the nearest locations to purchase (for example: Home Depot, Target, Walmart)
Creative Examples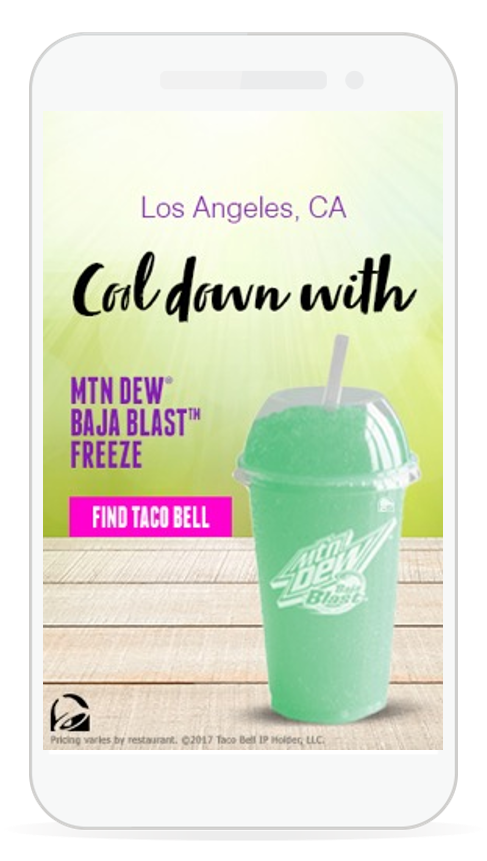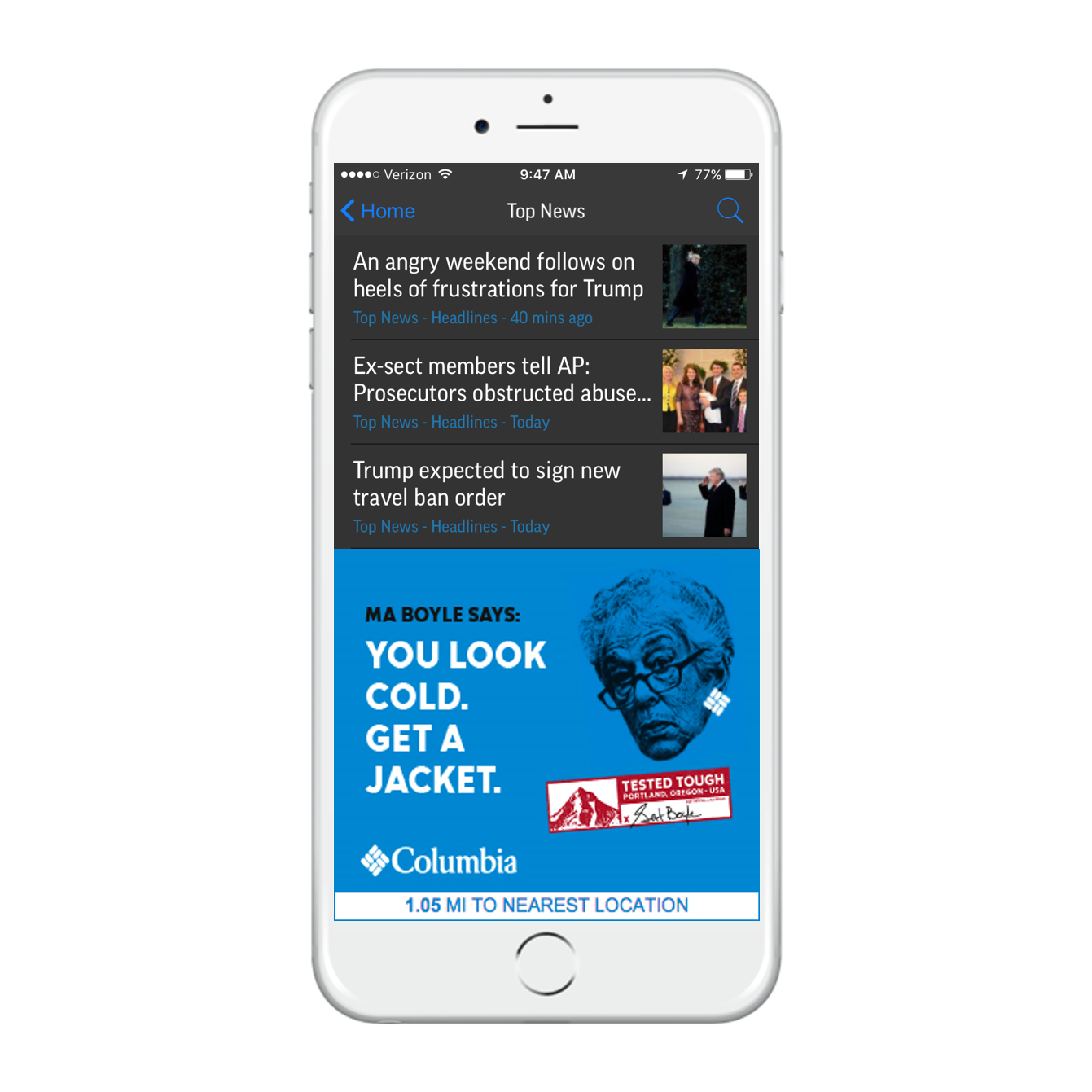 Frequently Asked Questions
Is Weather Targeting available in Canada?
Weather targeting is currently only available for the US Market.
On which device type is weather targeting available?
Weather targeting is available on Mobile, Connected TV (CTV), and Over-the-Top (OTT) devices.
Are estimated daily impressions and audience daily reach available?
No. Since the weather is highly unpredictable, we cannot provide real-time inventory and avails.
Can weather triggering be added to any product?
No. Currently Triggering will stand as a separate product within the plan.
How granular is the location targeting, combined with Weather?
We support Zip code, DMA, County, State, City, and National Targeting.